Post by Deleted on Aug 27, 2019 7:20:41 GMT -5
Toasted Almond and Chocolate Toffee Ice Cream Pie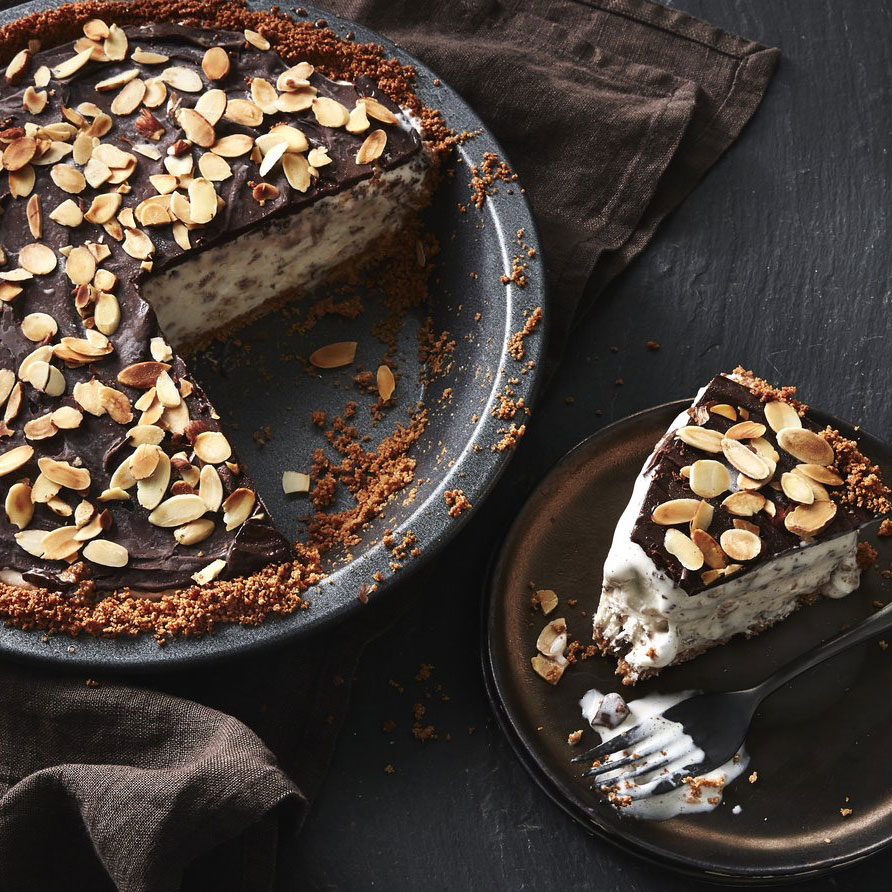 Ingredients
COOKIE CRUST
Butter and flour for pan
7 ounces amaretti (hard Italian-style almond cookies)*
1 tablespoon sugar
4 to 7 tablespoon salted butter, melted
PIE FILLING & TOPPING
4 cups packed vanilla-bean ice cream (bear in mind that airy ice cream will collapse more)
1 cup crushed chocolate-dipped toffee (put toffee in a resealable plastic bag and crush with a meat mallet)
About 1/2 cup Easy Chocolate Ganache
About 2 tbsp. toasted sliced almonds
EASY CHOCOLATE GANACHE
1 1/2 cups chopped semisweet chocolate
1 tablespoon salted butter
2 tablespoons whipping cream
Procedure
1. Preheat oven to 325°. Butter and lightly flour a sturdy 9-in. metal pie pan to keep crust from sticking. In a food processor, grind cookies with sugar into fine crumbs. With motor running, drizzle in 4 tbsp. butter and whirl, scraping bottom of bowl occasionally, until crumbs come together (you may have to drizzle in more butter).
2. Press crumb mixture evenly and firmly over bottom, up sides, and slightly higher than rim of pie pan (don't press onto the rim, or it will crumble when cut). Press rim firmly together so it's not crumbly. Run a spoon around bottom inner edge of pie, scooping away extra crumbs; otherwise it tends to get too thick and clunky.
3. Bake crust 12 to 14 minutes, or until crust is firm and lightly toasted. Let cool completely.
4. In a large mixing bowl, mash ice cream to an even consistency with a metal pastry blender or large fork. Mix in crushed toffee.
5. Carefully dollop ice cream into center of cooled crust and spread outward, not quite but almost to edge (the ice cream will naturally settle outward to fill the crust). With a small metal spatula, smooth the top flat. Slide into freezer, making sure the pie is level (otherwise it will freeze lopsided). Freeze until firm to the touch, at least 2 hours, then smooth on the thinnest possible layer of chocolate ganache. Sprinkle pie with toasted almonds; then freeze at least 2 hours more and up to 1 week.
6. Let sit at room temperature 5 to 10 minutes before slicing.
EASY CHOCOLATE GANACHE
1. Put chocolate and butter in a microwave-safe bowl. In 20-second bursts, microwave and butter, stirring after each burst, until two-thirds melted, about 1 minute. Whisk until melted, then whisk in cream. Let cool.
2. Make ahead: Up to 4 days, chilled (microwave in 20-second bursts to liquefy again).
Servings: 9
Yield: Makes one 9-in. pie (serves 9 to 12)
Tips
*Find crunchy, very almondy Italian amaretti in well-stocked grocery stores. Or use almond biscotti instead and whirl in 1 tsp. almond extract with the melted butter.
Make ahead: Pie, up to 1 week, loosely covered with plastic wrap and frozen.
Source: Sunset.com
Web Page:
www.sunset.com/recipe/toasted-almond-chocolate-toffee-ice-cream-pie
Copyright: © 2019 Sunset Publishing Corporation.
Additional Information
Photo Credit: Romulo Yanes; Styling: Claire Spollen